Have I proclaimed my love for our rain barrels lately?  No?  Well, then it is about time I do.
I love our rain barrels.
We have two rain barrels.  Our first is a 75-gallon artsy-looking contraption that we bought at Home Depot.  It was pricey, but very nice.  My husband built a nifty stand for it out of scrap wood, and we've been using it for months.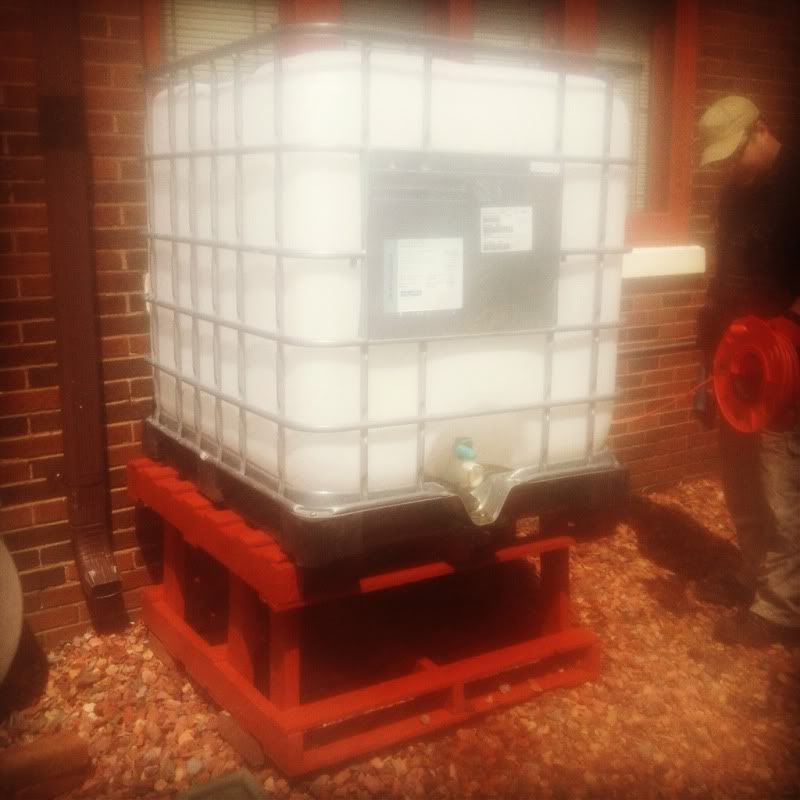 After it was built, we found something even better: someone on Craigslist was selling commercial food-grade 275 gallon containers suitable for a rain barrel.  For a mere $50.00 plus the cost of a water diversion kit to hook it up to the downspout, we had our super-duper ultra ginormous rain barrel.
At first, I thought it was complete overkill.  Who on earth needs 275 gallons of water, on top of the original 75 gallon rain barrel that we already had?  That question was answered pretty quickly after both rain barrels filled completely after a strong storm, and then we had almost no rain for the next three weeks.  Just to keep our garden watered, we've used well over 100 gallons of water since the last significant rainfall, all without having to turn to our tap water.  With no rain in the forecast, I'm glad to have this resource.
Have I convinced you of the virtues of having a rain barrel yet?  What if I give you six great reasons to love a rain barrel?
1.  The rain barrel is a great source of free water for the garden.  I can make sure that our plants have all the water that they need without being concerned about being wasteful, particularly if there is a drought or a water ban.  It doesn't take a lot of rainfall to fill the rain barrels, so even during dry spells we almost certainly have plenty of water in our barrels.
2.  Our municipality recently announced that it was going to seek a 25% increase in the water rate, and with additional charges they are seeking to tack onto our bill by 2018, homeowners have been told to expect to see their water bills double in the coming years.  We use a LOT of water in the garden, so the use of rain barrels will help us mitigate that cost a bit.
3.  Reduced runoff from the roof is good for our basement.  Our house is 99 years old and has a fieldstone foundation.  A mere three weeks after we purchased our home, our neighborhood suffered the worst flooding this area had seen in over a hundred years.  The Fox River swallowed up our downtown – people canoed the streets for days – causing significant damage to a lot of buildings.  Many people found their basements filled with water.  While our basement stayed dry, I don't want to tempt fate.  The downspouts from our roof dump out mere feet from our foundation, and in heavy rains the ground becomes saturated quite quickly.  Every bit of water that we can divert from the foundation of the house will add to its longevity.
4.  Runoff water is ideal for plants.  Believe it or not, in additional to the various chemicals that municipalities add to their water sources, our community also suffers from not-insignificant levels of radium in the water.  Water from our rain barrels doesn't have these problems, and I'm sure our garden is grateful for that.
5.  By making an effort to conserve water, I'm teaching my son an important lesson.  He is growing up in a family where things like backyard chickens, gardening and water collection are just another part of life, and I hope that makes a big impression on him.
6.  They are great conversation pieces.  You wouldn't believe how many people ask us what these things are on the side of our house.  It is a great way to open up a conversation about conservation, about gardening, and about being kind to the environment.
Do you have a rain barrel?  What are your thoughts on the benefits of collecting rainwater?