Tweet
When I was my son's age, my advent calendar was one of my favorite parts of the holiday season.  Each year, my mom bought me my favorite:  it was a cardboard calendar with little windows and doors for each day that tear open to reveal a festive picture and – get this – a different holiday scent.  It was a scratch and sniff advent calendar.  The 1980s really were awesome.  I can still smell the gingerbread when I reminisce about it.
I wanted to keep the advent calendar tradition for my son, and initially I thought the Lego advent calendar looked fun.  However, we've been trying to move away from associating the holidays with a big commercial gift grab – particularly because his birthday is Christmas Eve –  and 24 days of new Legos seems like a poor way to set an example.
As an alternative, we created an advent adventure calendar.
The Pelsers inspired me with their simple but sweet take on the advent calendar.  Each card is a large index card with colored paper and stickers on it.  What makes this an "advent adventure" calendar is that each date has a short list of things to do, including the title of a book to read (some new, some old), a song to sing or joke to share, and an "adventure."  Some adventures are simple:  play with Play-Doh, make and use a car wash for the Hot Wheels, or paint some suncatchers.  Other adventures are a little more involved, like baking cookies together, or going for a drive to look at the Christmas lights.  I'm hoping that this style of advent calendar will not only be a lot of fun for Jack, but that it will help him grasp concepts like the passing of days and appreciate the importance of even the little things that we do together.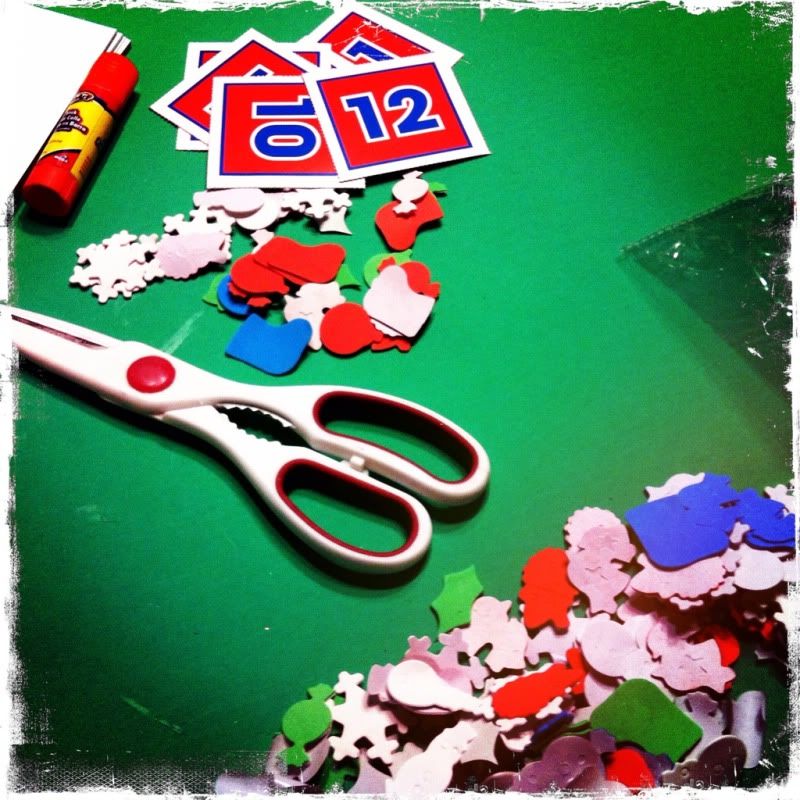 Everything I needed to make the advent calendar came from the dollar store, and I paid less than $6.00: glue stick, 2 pieces of tagboard, one pack of Christmas stickers, a pack of index cards, a box of paperclips, and a classroom calendar for the numbers.  It took about an hour to cut and assemble everything.
I initially planned on writing the activity list on the back of each individual card, but instead I listed them separately in a notebook.  That way, if the advent calendar ends up being a hit for Jack I can reuse the cards over a period of years and simply update the books and activities listed in the notebook to ensure that they are more age appropriate as he grows up.
This year's list of adventures include:  a scavenger hunt, playing a board game, baking chocolate chip cookies, a game of hide and go seek, setting up a couch cushion fort, making a trip to the half price bookstore, and more.  Simple, fun things.  "Together" things.
Happy Holidays!