Tweet
Busy boxes are one of those great toddler/preschooler projects that so many of us say "oh, I can make those!" but we rarely have the time to actually sit down and craft them.  Even though the components are always simple, actually putting them all together into one fun package is more of a task than many of us are up to – especially on those days that we need these easy diversions the most.  The three most popular posts on this blog are about busy bags for toddlers, so I know that parents are always looking for things to keep their little ones busy on road trips, in new places, and even at home on quiet days.  Even the most creative mom can appreciate an enriching toy/activity that's already put together for her child to play with.
We had a serious need for a busy box a few weeks ago:  we spent three days at a waterpark hotel for Jack's third birthday, but he was too sick to do much playing in the water.  Instead of three miserable days of trying to contain a sick-yet-energetic little guy in a hotel room, we were prepared with a beautiful Frosty's Busy Box from Tmuffin.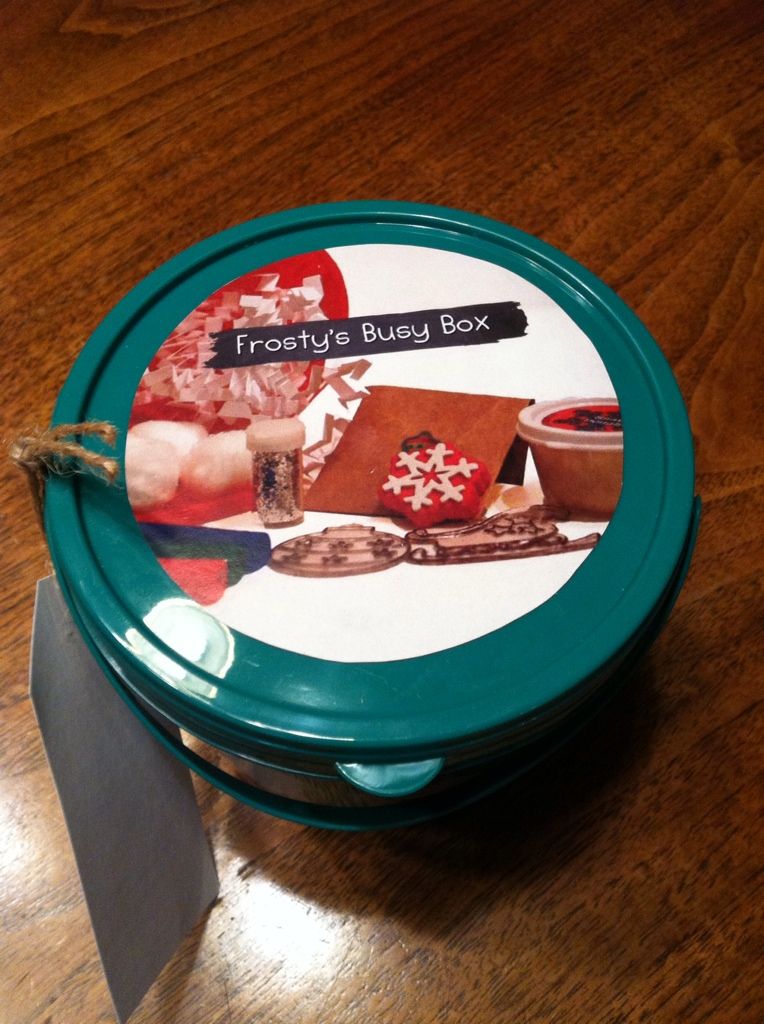 And now, Tmuffin has one to give away to a random reader.
Frosty's Busy Box is a lot of winter themed sensory fun in one small package.  Jack spent a lot of time enjoying the scented Play-doh.  He explored it with the stamps, he rolled it into little tiny snowmen, he colored on it with the markers and sprinkled it with glitter.  He used the suncatchers to stamp figures onto the dough and he colored the stencils too.  He had days' worth of fun with it, and he still asks to play with this busy box.  He certainly loves it much more than my own busy box creations.  Plus, it all came in an adorable little bucket.  What little one doesn't love to have a bucket to put their treasures in?  Because it is so self-contained, this is the perfect little kit to toss in the car for a trip to see family, or the doctor's office, a restaurant, or any other place where little minds and hands can get bored and restless.
I encourage you to check out the Tmuffin website and subscribe to the newsletter.  These busy boxes are just the tip of the iceberg there – you'll find much more about babywearing, breastfeeding, and beautiful, gentle ways to connect with your children.  And don't miss the chance to print out a perfect "thank you for breastfeeding" card while you are there.   I'm excited to see what Tmuffin has in the future, including a busy box subscription service.
If you want to win your very own Frost's Busy Box, enter below using Rafflecopter!  The giveaway closes this Friday, January 18, 2013.  Good luck!
a Rafflecopter giveaway