With improved suspensions and frame designs, the latest mountain bikes are making riding off-path accessible to all. A guide to the best trail, fat-tire and electric mountain bikes.
Biking on a paved road has its charms—but it can't beat winding through a piney forest or a picturesque meadow on a dirt trail. Off-roaders experience the world differently: The scents are more pleasant, and there's only the sound of the wind in the trees and your bike's knobby tires scrunching over the earth.
As idyllic as this all sounds, we know what you're thinking: Yes, coasting downhill seems fun enough, but what about the slog back up?
Fortunately, quantum leaps in bike design are making off-road riding more accessible. Highly efficient mountain bikes take some of the sweat out of climbing hills. So-called "fat-tire" bikes can roll over virtually any terrain, from sandy beaches to gravelly paths. And the electric-bike revolution is finding its way to the trail, too: Off-road models with electric-assist motors can help you traverse arduous stretches that would otherwise leave you panting.
Born in the 1970s as a niche pastime for thrill-seekers who put balloon tires on bike frames and careened downhill, mountain biking is now mainstream. According to the Outdoor Industry Association trade group, an estimated 40 million Americans mountain bike each year. The market has evolved to meet the demand. Sales of all-terrain fat-tire bikes increased sixfold between 2013 and 2015, according to market-research firm NPD Group, and growth in independent-bike-shop sales has largely been driven by mountain and electric bikes.
For beginners, that means more choice: Now anyone can find a model to fit his or her body type and skill level. The downside? Shopping for a bike can be a paralyzing experience, an overwhelming blur of various suspension types, wheel sizes and frame designs.
There's no substitute for hopping on a bike and testing it out—evaluating how the suspension responds, how well the tires grip and whether the frame puts you at an angle that makes you feel secure heading up and down hills. But the guide on the following page can give you the lay of the off-roading land. No matter what type of ride you choose, the key is to get out there and discover your inner kid. And what better place to do that than on a dirt trail?
Sourced from: http://www.wsj.com/articles/think-off-road-bikings-too-tough-for-you-these-mountain-bikes-will-change-your-mind-1470345662
Study details the economics of mountain biking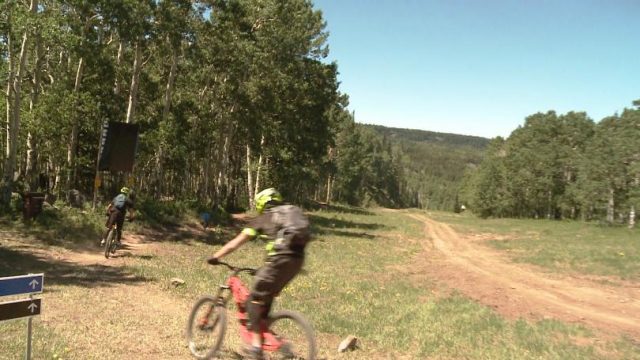 A comprehensive study of the economics of mountain biking conducted by the website pinkbike.com provides a clearer picture of who the sport is attracting and how much they are spending.
According the article most mountain bikers are men, 65-70 percent are between the ages 25-44, and most have an annual income over $80,000.
The article says the typical mountain biking trip is 3 to 5 days. While on a trip, a mountain biker will pump between $60 and $100 a day into the economy of the area they are visiting.
Ash Jordan, owner of The Bike Shop, said mountain bikes can cost as much as $10,000, but it can be a relatively affordable hobby.
"You can spend $500 to $600 to get started. Then you can always spend more as you get more into it," said Jordan. "It's definitely more fun the more you spend, but you don't have to constantly feed money into your bike every time you use it."
Sourced from: http://www.nbc11news.com/content/news/388488612.html