Tweet
Cosleeping, the act of sleeping in close proximity to one's children, is practiced all over the world. Closeness to a child – be it a newborn, a toddler, or even an older child – means that the parent is immediately available to attend to the child's needs.  Who could object to that?
Cosleeping has gotten a lot of negative attention in the media lately, thanks in no small part to tactics like a scare campaign created by the City of Milwaukee's Health Department featuring babies sleeping in a bed next to sharp-edged weapons.  The implication is that cosleeping is deadly.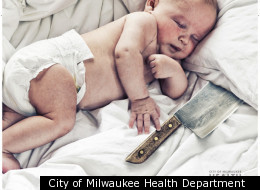 The voices expressing the positives of cosleeping, safe cosleeping, are few and quiet.  It is time for these voices to be united and heard.  Please consider joining Monkey Butt Junction for the Safe Cosleeping Blog Carnival on December 15, 2011.
What is a blog carnival?
A blog carnival is a blog event similar to a magazine in that participating bloggers each publish an article on carnival day relating to one topic.  In this case, the Safe Cosleeping Blog Carnival is dedicated to exploring any facet cosleeping.  Whether you are new to blog carnivals or a regular contributor, we'd love to have you participate on this important topic.
What should I write about?
The one requirement we have for this carnival is that your post reflects some aspect of cosleeping.  Do you want to share a story about your family's own experience?  Do you have information on cosleeping statistics?  Would you like to discuss safe cosleeping techniques?  Has cosleeping made your child a better sleeper?  How has cosleeping affected your family bond?  Have you used or reviewed a cosleeper or other safe cosleeping product?  Have you run into criticism in your choice to cosleep?  It is easy to become impassioned on this subject – let yourself get carried away!
How do I participate?
A blog carnival provides the opportunity for a variety of bloggers to write a post on a specific theme, publish them on the same day, and then support each other by reading posts, making comments and sharing on social networks.  Since the participants are all writing on the same theme, the carnival is a great way to discover new blogs on a topic that you are passionate about. Blog carnivals have the potential to create community, forge friendships and get you increased attention in the blogosphere!
We welcome all new or previously published posts on the subject of cosleeping.  All posts should be submitted no later than December 8, 2011 to Jenn at the following email addresses:
jenniferjhoffman (at) yahoo.com
Replace the (at) with @ and close the gaps – it's written like this to prevent autospammers!
In addition to your post you will need to write a 1-2 line summary of your post that will be included in the link information at the bottom of the carnival. E.g 'Jenn at Monkey Butt Junction discusses how cosleeping has made her queen sized bed feel really, really small' (well there *are* some negatives to cosleeping, right?)  Please send this summary in the same email as your post.
Please also share your Facebook pages and Twitter urls if you have them so we can link up everyone and promote each-other on our social network sites.  Building a community of like-minded bloggers is one of the best benefits of participating in a blog carnival.
You will be informed of your acceptance to the carnival by December 10th and given additional information such as the html code to insert before and after your post which will list all the other participants. All posts need to be published on Thursday, December 15, 2011 and you will be expected to update the html code later that afternoon with all the updated links.  The updated code is essential because it will give your readers the links to other blogs participating in the carnival, as they will be linking to your blog as well.
Don't worry if it's your first carnival and all this sounds complex, it's super simple and tons of fun!  Your carnival hosts will be happy to help you on the day of the carnival if you run into problems, too.
We look forward to your participation. Please spread the word!
Jenn