Tweet
This is the third post in my series of ideas of toddler busy bags.  Busy bags are small, self-contained bags with activities to help keep a toddler busy.  I like to give my busy bags an educational twist when possible, and because little ones learn so much through play, that's a pretty easy goal.  The previous two posts on busy bags are located here and here.
The Quiet Book.  This amazing idea from Serving Pink Lemonade is really ambitious but really beautiful.  It is a felt book filled with different activities and games that will keep a toddler entertained.  The book is such quality that I could see it becoming a treasured keepsake once the child outgrows its usefulness.  While I doubt I'd ever be crafty enough to make one, I am certainly impressed with the idea.
Memory Match Game.  This one is so easy and so versatile.   Just pick up a pack of stickers with at least two of each style, and stick them to heavy paper or tagboard (I used old playing cards).  Cut the pieces to a uniform shape and you have an easy version of Memory.  Since my son is obsessed with all things Cars, I used Cars stickers for our match game.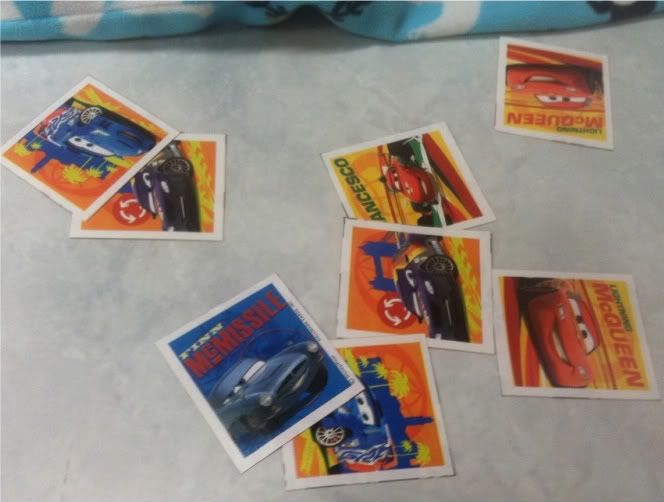 Beads in a Bottle.  It doesn't get much simpler than this:  toddlers love to sort things, and as they develop their fine motor skills they'll enjoy placing small objects from one container to another.  Put beads (multicolored pony beads are my favorite choice) into a small Tupperware bowl, and show the toddler how to take them out, one by one, and put them into the narrow neck of a water bottle.  And as long as you have the pony beads, grab some pipe cleaners too for stringing the beads onto.  Sure, there will be the occasional (or maybe frequent) stray beads on the floor, but this can keep a young child busy for quite awhile.
Felt Play Scenes. The possibilities are nearly endless with this one.   With a variety of brightly colored felt you can cut out shapes to make different scenes.  Make felt eyes, noses, lips and a face for a Mr. Potato  Head type of face game.  Use a single piece of felt as a background for a scene – fish in water, cars on streets, animals on grass are all possibilities. We've used the fish scene below to talk about colors, to count, and to talk about relational differences (big and small, long and short, etc.)
I've also been bookmarking sites with great busy bag ideas, and here are some really nice collections:
Money Saving Mom has a great list of toddler busy bag ideas with great photos.  I especially love the pom poms and pinchers busy bag and the build-a-snowflake busy bag.
Planet of the Apels coordinated a great busy bag swap and has a wonderful collection of busy bag ideas.
The Rigneys also have a busy bag swap page with some great inspirations.  I "I Spy Fish" is all kinds of awesome.
Michelle's Charm World has some creative ideas, including a really neat homemade racecar track.
Mine for the Making has some great looking busy bags that are mostly made from findings in the Target dollar bins.  I love these options for those of us who are less than talented when it comes to sewing.
Once you have a few busy bags made, throw some in a purse, in the car, or just keep them handy for that moment at home when you really need a moment.  Get creative, and have some fun.